PRECISO Multifunction Modular Trolleys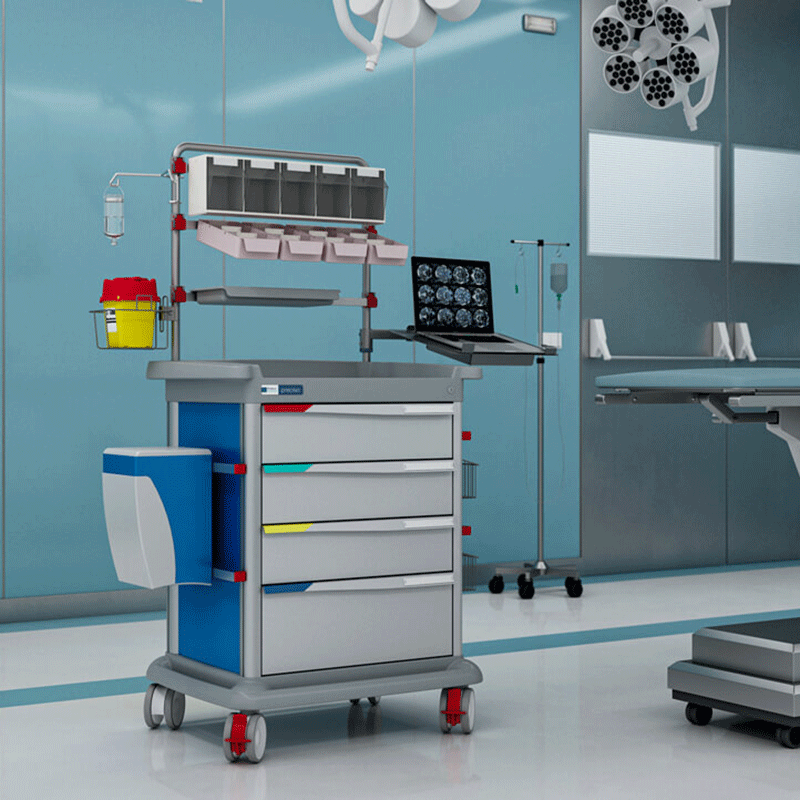 Made from high-quality, hard-wearing premium materials, the PRECISO range of multifunction modular trolleys are designed specifically for use in a clinical environment.
With literally dozens of configurations available, in varying heights, the PRECISO multifunction medical trolley range includes ISO compatible multiple drawer systems, lockable doors, pull-out work surfaces large enough to accommodate laptops, rolling and lockable shutters, and much more.
Most drawers, doors and accessories are also interchangeable with existing PRECISO multifunction trolleys, meaning you aren't left with large trolleys or carts when expanding your medical storage, distribution and transport systems.
These premium medical hospital trolleys from Francehopital are backed-up by a comprehensive manufacturer's warranty, are available in several different colours, and come with a wide range of accessories – all with a guaranteed build-quality to ensure that your trolley will last for many years to come.
• Therapy Trolley
• Dressing Trolley
• Anaesthesia Trolley
• Therapy and Patient Notes Trolley
• Patient Files Trolley
• Multifunction Trolley with Doors
Where can PRECISO multifunction trolleys be used?
PRECISO multifunction trolleys an ideal piece of equipment for hospitals and nursing homes, and they are also suitable for use in any clinical environment including dental and veterinary surgeries.
How versatile are the PRECISO multifunction modular trolleys?
The PRECISO multifunction modular trolleys all have the same footprint, meaning they are fully interchangeable into the available space – the only difference being the height of the units.
Made from Aluminium and ABS plastic, our multifunction hospital trolleys offer the versatility required within any healthcare environment.
PRECISO has 3 basic configurations:
• Drawers
• Rolling shutter
• Or Doors
When equipped with drawers these can be:
• On telescopic frames or
• On plastic ISO guides
When equipped with a rolling shutter or with doors, the trolleys can be configured choosing from a broad range of ISO compatible accessories.
Please send an enquiry to  or call 01604 646633 to find out how the PRECISO Multifunction Modular Trolley can be configured to suit your needs.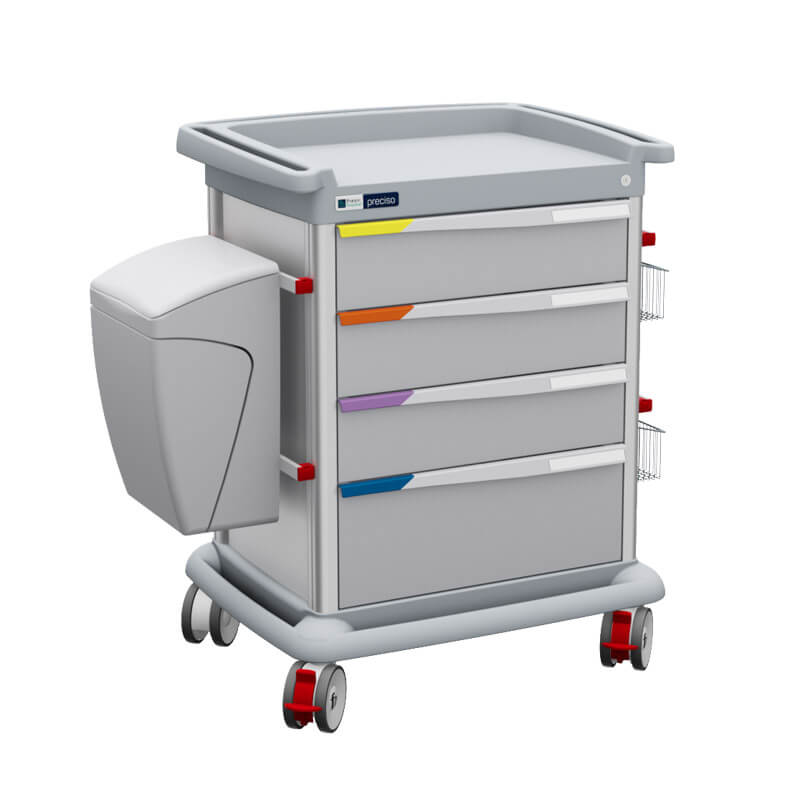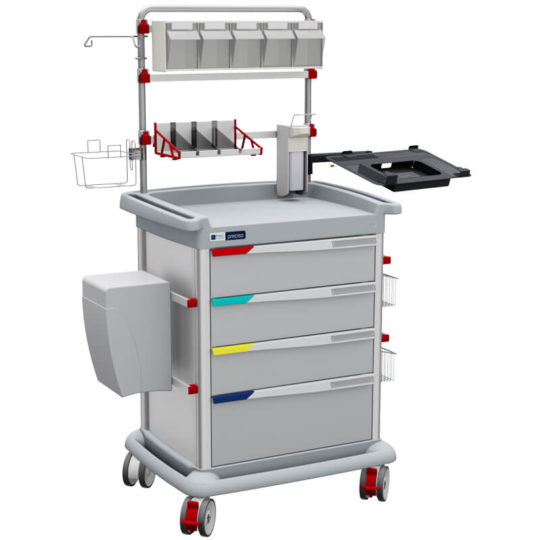 Configure your own PRECISO Trolley
The PRECISO trolley is available in various sizes, can be equipped with a variety of drawers and accessories, and can even be equipped with a rolling shutter. 
Click the button below to make an enquiry, and we will get a quotation back to you as soon as we can – usually within 24 hours!
The PRECISO Multifunction Modular trolleys are available in a range of heights from 840mm to 1080mm.
The base dimension of 830mm x 650mm remains the same across all heights for optimum use with existing PRECISO trolleys. 
Please note that certain options may increase the overall base dimension of the trolley.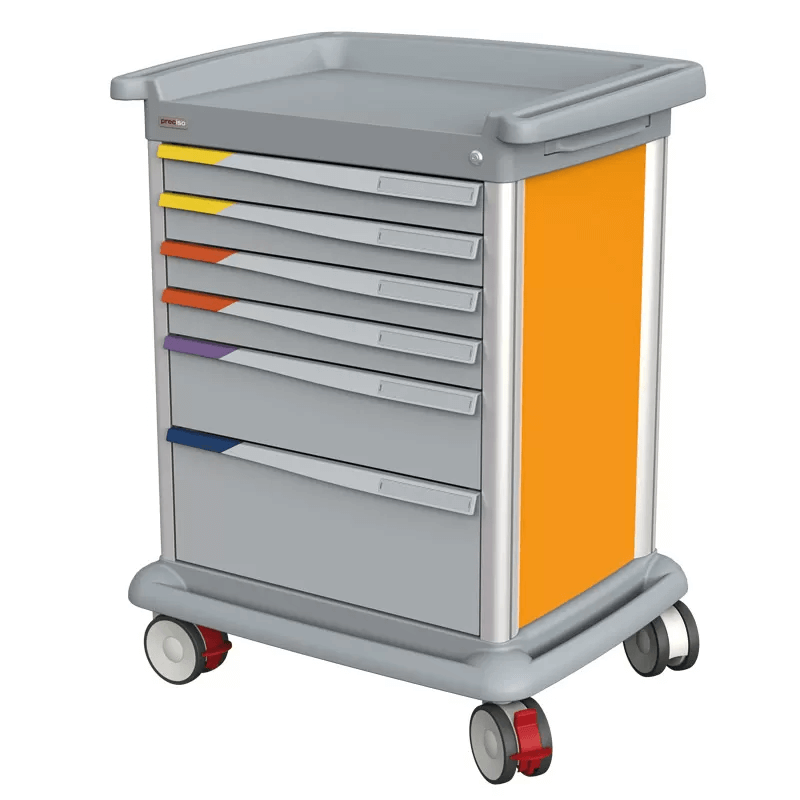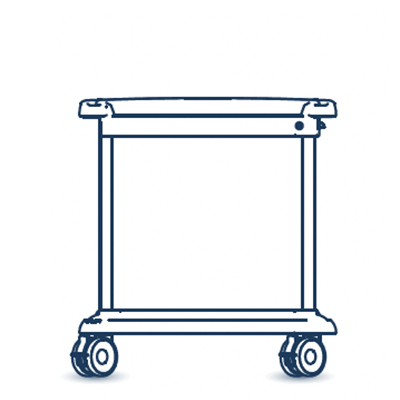 No.7
830mm x 650mm
840mm Height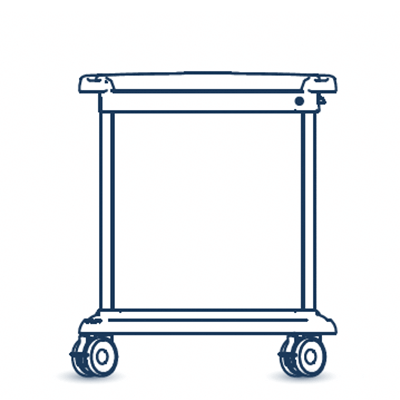 No.8
830mm x 650mm
920mm Height
No.9
830mm x 650mm
1000mm Height
No.10
830mm x 650mm
1080mm Height
This is the shared transport element for our range of trolleys, transport and storage columns, MOSYS-ISO shelving system and others such as Picking Stations.
The FH-Drawer is made of high-quality, injection-moulded ABS plastic, which means that it is seamless and has a smooth surface. It is easy to clean and can withstand temperatures from -30 °C to +85 °C.
Coloured
Each drawer comes with a coloured identification tag, available in 10 colours, for immediate identification of the contents, and a label holder. Tags are interchangeable and can be swapped at any time.

Mobile
The FH-Drawer is unique because it can be pulled out, becoming mobile. It rests on a frame that incorporates the telescopic slides: lifting it is easy.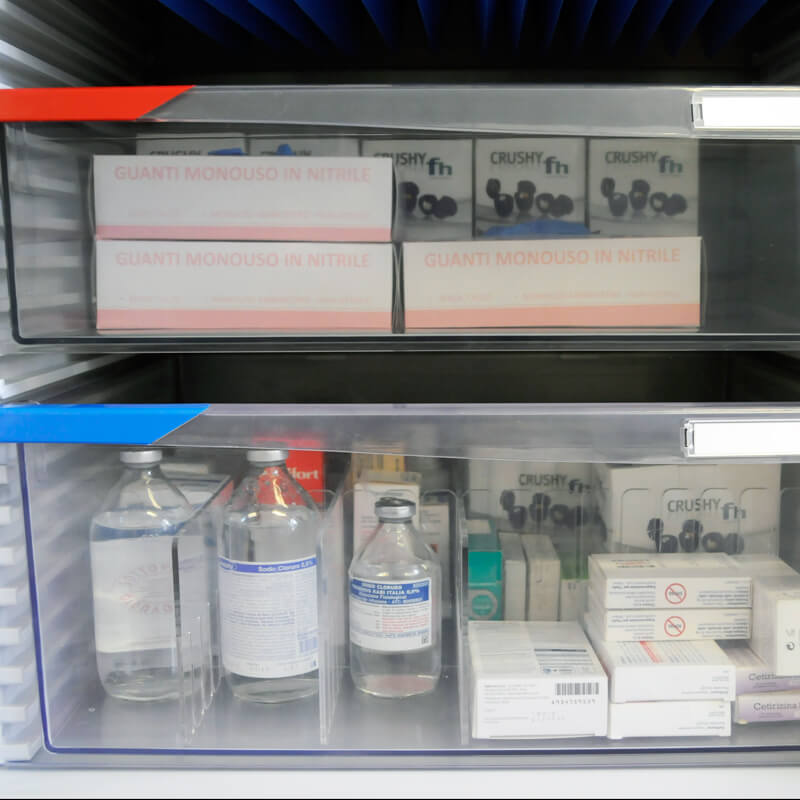 Transparent
Great for seeing the contents at
a glance, even when the trolley is closed. Suitable for use on both telescopic and ISO guides, the transparent FH-Drawer is made of ABS plastic.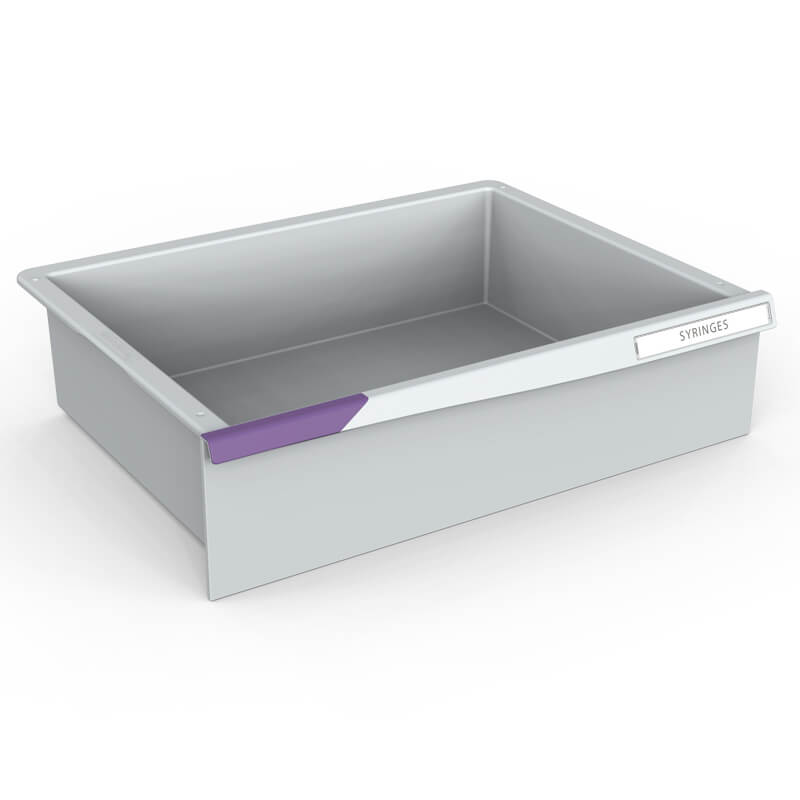 Modular – Spacious
FH-Drawers come in two sizes: 610 mm x 470 mm and 410 mm x 470 mm, and in different heights: 76 mm – 1 module, 156 mm – 2 modules, 236 mm – 3 modules, 316 mm – 4 modules.
The FH-Drawer has 4 sides of the same height, ensuring true capacity and preventing products from falling sideways.
The FH-Drawer
• Allows the rapid exchange of drawers between trolleys
• Allows perfect cleaning and sanitizing thanks to rounded inner edges and corners
• Ensures a load capacity of 45 kg
• Guarantees 110% opening and closing with automatic retraction.
The telescopic slides are quiet and damped.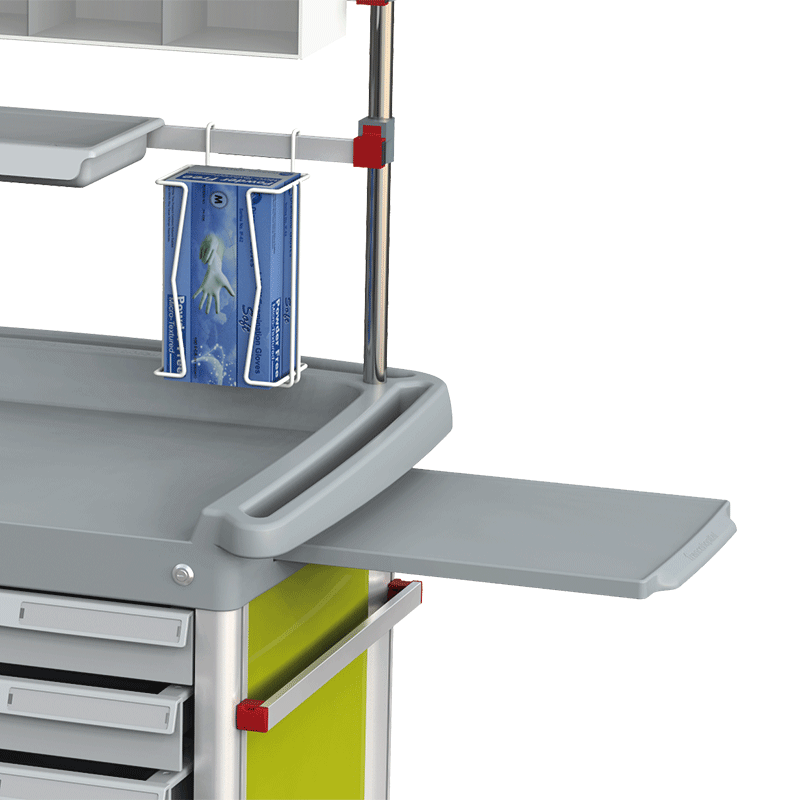 Worktop and pull-out surface
Broad worktop that features 3 tall containment rims and a smaller front facing anti-spill lip. Push handles integrated on 3 sides of the trolley protect the hands and the trolley itself.
Handy ABS injection-moulded
pull-out surface with stopper.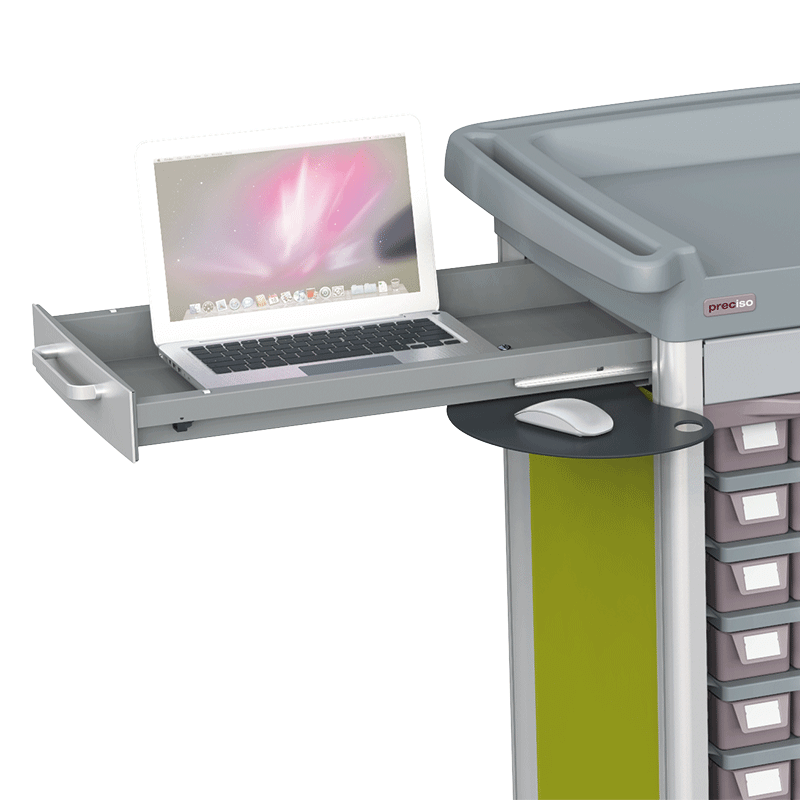 Side drawer for a laptop or drugs.
For secure storage of narcotics or a laptop, it has an independent key lock.
The drawer runs on ball-bearing
guides and features a self-closing system.
Twin Wheels
The Preciso line uses twin wheels: extremely quiet and robust, that withstand large loads without any problems.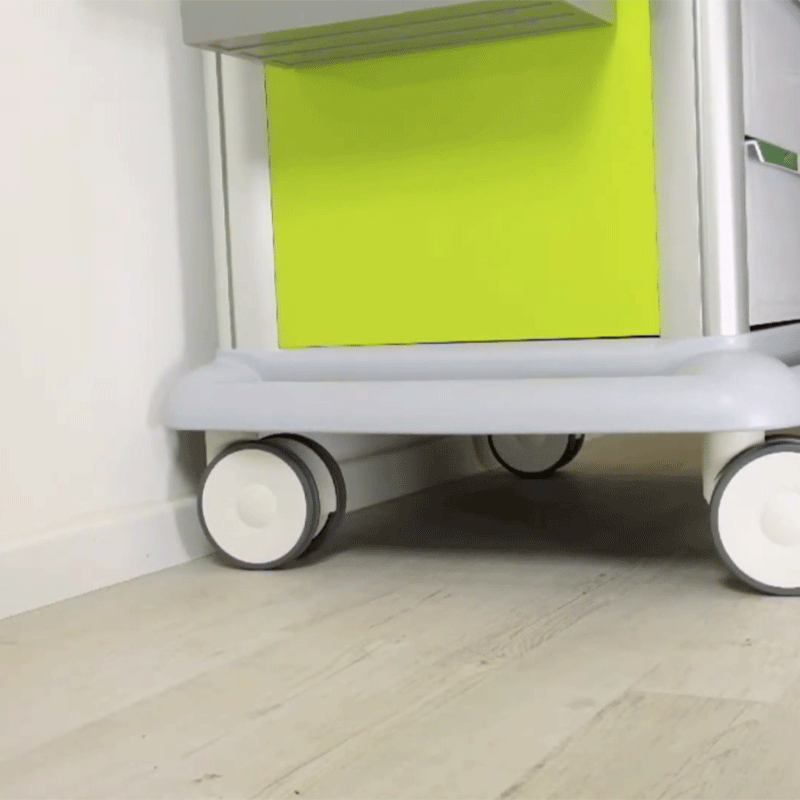 Perimeter bumper
All models have a perimeter bumper at the base which doubles up as a practical footrest for healthcare personnel.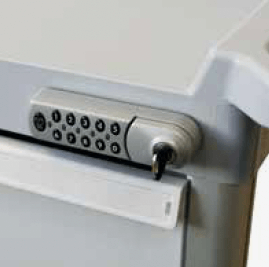 Digicode
With numeric code (and key as bypass in case of problems).
Seals
Individual or centralized locking of drawers.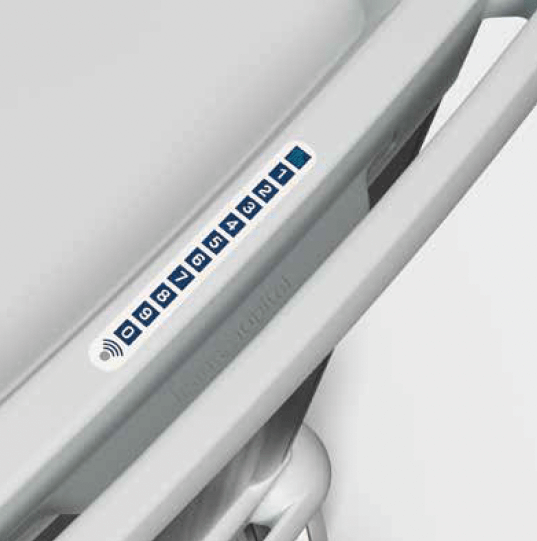 NEXT-lock electronic lock
Lock and unlock drawers with:
• 4-digit PIN
• NFC on card or suitable smartphone
• Auto-lock after set time (programmable)
• Lock and unlock using a key (as safety measure)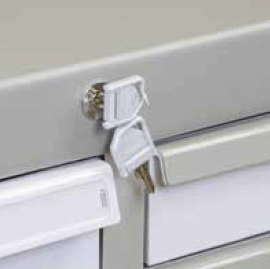 Key lock
Standard on all trolleys. The key
bends to prevent breaking it or
hurting operators.
Available colours for side panels
PRECISO Full System Presentation
There are many versions available including therapy trolleys, anaesthesia trolleys and dressing trolleys, and all are available with a wide range of options including rolling shutters, keylocks for secure closure, wide worktops and innovative push handles for easy manoeuvre.
Watch our full system presentation video to see just how versatile the PRECISO multifunction trolley is.
Call 01604 646633 for full details of the options available from Standex Systems.
PRECISO Multifunction Modular Trolleys
Assembled structure with anodized aluminium walls and posts / powder coated walls (for colours other than grey). Extendable working surface in pearl-grey. Wide worktop in ABS

Read more Add to Enquiry Basket

Assembled structure with anodized aluminium walls and posts / powder coated walls (for colours other than grey). Extendable working surface in pearl-grey and two baskets on ri

Read more Add to Enquiry Basket

Assembled structure with anodized aluminium walls and posts / powder coated walls (for colours other than grey). Extendable working surface in pearl-grey on right side. Wide

Read more Add to Enquiry Basket

Assembled structure with anodized aluminium walls and posts / powder coated walls (for colours other than grey). Wide worktop in injection mold ABS, pearl-grey color. Innovat

Read more Add to Enquiry Basket

Assembled structure with anodized aluminium walls and posts / powder coated walls (for colours other than grey). Extendable working surface in pearl-grey. Wide worktop in ABS

Read more Add to Enquiry Basket